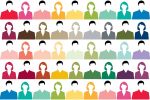 Some content on this website is intended only for members of the Psychiatric Medical Association of New Mexico (PMANM).
If you are a current member of the New Mexico Chapter of the American Psychiatric Association, please register for our website's restricted content here. Please note that there may be a delay, as each request is manually checked against our current member list.
If you are a psychiatrist in New Mexico, and would like to become a member of the APA and PMANM, NM's district branch, please go to our "Join Us" page, which has some information and links to the APA, where you register for both organizations simultaneously.  Joining only one is not an available option.